Apologies for lack of blogging I have literally been too ill to do anything, save a visit to Bristol for a 'break', which left me in a worse state than when I left London. Grr, dam Bristol party scene! Fortunately I am on the road to recovery however swamped with a backlog of promised work and overdue deadlines. There just doesn't seem to be enough energy in me to bang it out. Anyho. I would like to draw your attention to an event that is happening tomorrow and is centered on the ever approaching, soon to arrive, London Fashion Week. Code for London Party Week, or London free drinks week. Fingers crossed a return to full health before it all begins otherwise I'm buggered!
My housemate Noah has pulled out all the stops for the Glorified £ Shop happening downstairs in the basement of
Maiden
is to be opened by none other than Stephen Jones MBE. The shop is hosted by underground's darling Princess Julia and her A-team Josh Quinton, Hannah Hooper, Felicity Hayward and Lilee Cathcart who have carefully edited a vast selection of specialist pieces to offer something from every era.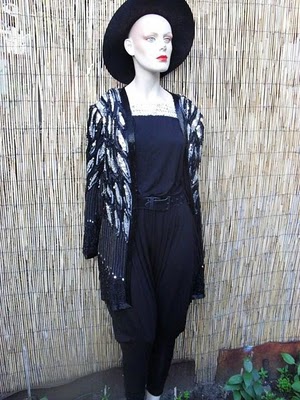 The pop-up store runs from the 17th-23rd September and is open 11-7pm, with special events happening daily including a performance from the infamous artist Scottee, hair dressing from vintage stylist Sami Knight, James Main nee Jeanette (ala Boombox) providing catwalk lessons. I'm getting excited just thinking about trawling through the clothes to unearth a piece of retro styling.
Princess Julia
"The interest in retro and recycled style has never been more inspiring; by mixing the traditional with the radical style icons of London have never been more vibrant and varied. At The Glorified £ Shop we hope to reveal the secrets of developing personal style with a twist and with prices starting from £1 they'll be something to suit budgets big and small" explains Princess Julia.
Members of the A-team
Member of the A-team, con't